I had a great appointment today and have a wonderful doctor!!! She is super nice and very friendly and I look forward to seeing her every four weeks! The exam went well and the ultrasound was even better!! I have actually lost quite a few lbs since I was weighed last...about 12 lbs lighter. I am under 150 now and I am happy that I am starting out weighing less than I did to start off with P. I also took my 9 week belly picture today before I left and here it is!!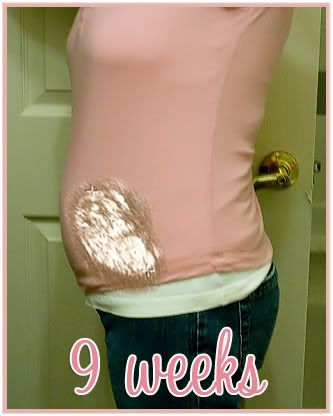 And here is the ultrasound pic with just the baby...anyone want to take any guesses on what the sex will be? It will be a surprise for us but everyone is welcome to leave a vote if you would like!!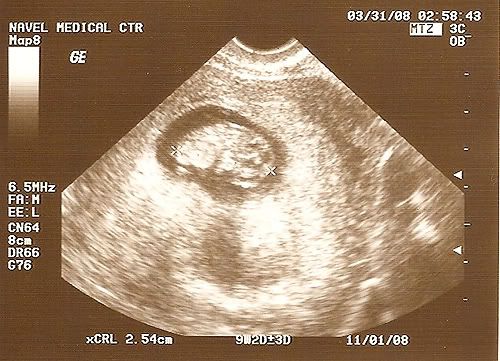 I was really nervous before the u/s today because I have never had to wait this long to see the baby before and I was so scared that something was going to be wrong since I have had two bouts of spotting. But as soon as we found No. 3 (Josh has dubbed this baby as No. 3) the first thing you could see was the little heart just beating so fast!!! I cried because it was just so relieving to see it and it made it all more real to me. I really wish Josh could have been there for it but I know that he will love seeing the picture. I am so grateful to have this little miracle inside me. I cant wait to meet in 7 more months. Its real...I am pregnant and have a baby inside!!!! YAY!!!!

Good night everyone!!!