So I know I have missed Tuesday blog assignment and I need to do Fridays as well. I have been rather occupied with little sleep. Addison has an ear infection and now Preston is puking. Its going to be a great looooong night. I think he is getting the virus that she had last week...hers started with the puking. At least he isnt running a fever. As I type this at 2:09 am he is sitting in his Pack n Play in my room pulling the handle on his little lamb that plays a lullabye. He has been pulling it for 10 minutes straight. Poor thing. I think he doesnt want to go back to sleep so he doesnt get sick again. I didnt even know he had thrown up at first. He started fussing at 1245 so I assumed he had lost his paci so I went to go and find it. I felt around his bed and that is when I ran my hand across it. Not too good when you are pregnant!!! So I turned on the light to find that he had thrown up twice. I moved him to the PNP while I got the sheets all off and he puked again. I went to start a bath and off we went. We took a bath, I cleaned the PNP up and moved it to my room. Got him all dressed and he was sitting in the PNP and he threw up yet again!!! Making it 5 times in about 2 hours. I hope it is out of his system, but I wont bet on it. Mommy instinct. So he will sleep in my room so I can at least hear him if it does happen again.

Josh got in today but had duty so he is still on the ship. We get to pick him up in the morning and he will be home for a few weeks before they are gone for some qualifications. The next trip should just be a few days so not too bad. He is excited to be home! So are we!!

Okay, onto the blog assignments. Tuesdays assignment was Springtime. Here goes...

Spring is my favorite season for many reasons. First and foremost, it is when the dead of winter leaves and all things come back to life. Easter is in the spring and Jesus rose from the dead and it is the same thing to me. I love all the sounds of spring, from the rain falling on the roof to the chirps of the baby birds in the morning. I love that the weather gets nicer and nicer as the days go on. I love the smell in the air of all the flowers that are in bloom. I love to see all the little buds on the tree start to bloom and then to see all the trees go from brown to beautiful shades of green. I miss seeing the bluebonnets and the paintbrushes bloom in Texas...oh how I miss that terribly!!! I also love spring time because my two girls were born in spring. I love spring, can you tell?


Fridays assignment is fantasy shopping. I am to pick at least two things that I would love to have but dont.

First would be a Volvo XC90. It is my dream SUV. It is soo sleek and nice...I would love to have one!! The way I would want it would probably cost around $50,000. Not too bad...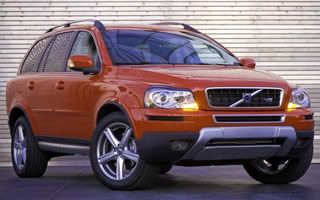 Another thing that I would want to have is a nice house. Nothing too big, unless it came with maid service but since this is

fantasy

shopping, I guess I could have both! The house would be 6 bedrooms with a huge master suite with a large sitting area. The master bath would have to have a double stand up shower and the bathtub would be a spa tub with the jets and the lights. We would have separate walk in closets. The kids would have their own room. One of the other rooms would be a nice office. The last bedroom would be a guest room. There would be a bathroom connecting two bedrooms for the kids and a bathroom connecting the last of the kids rooms and the guest room. There would also be maybe a half bath for the hall way. In this house there would have to be a huge playroom. The kids have tons of toys and they need a lot of storage. The house would also have a huge kitchen with a nice 6 burner gas commercial like stove. All the floors would be hardwood, cherry wood. It would have a nice living room with new furniture and a nice size DLP TV. Yeah baby!! I guess we could have a pool in the back with a nice outdoor kitchen area with a nice built in grill in the covered patio. Of course the pool would have the safety fence around it. That is a given. I will have to research and find some pics to post of this so called house. When I do, I will post them here.

Preston is finally asleep so I am off to dreamland myself!!! Goodnight!!